You are invited to join us for our 10th Anniversary Celebration
An Evening for Korah
We thank God for these last ten years and are excited to celebrate this milestone together!
It will be a very special night as we have much to celebrate. We have just returned from an extensive visit to Korah and we have many new stories to share: stories of hope and transformation, firsthand accounts from our staff and from those living in Korah whose lives have been impacted by the work many have helped to make happen.
Our First Hybrid Event: In-Person & Online
Last year was our first virtual event as we all gathered online to enter 'Korah at Home'. This year we are thrilled to be able to meet once again in person, so we are planning our first hybrid event! With many people living in different places and considering the current restrictions, we have two meaningful ways that you can join our celebration: either in-person or online. Please see below to register for either option. As in previous years, this will be our annual fundraiser to help raise much-needed support for all the many areas of holistic care Hope for Korah provides during each year.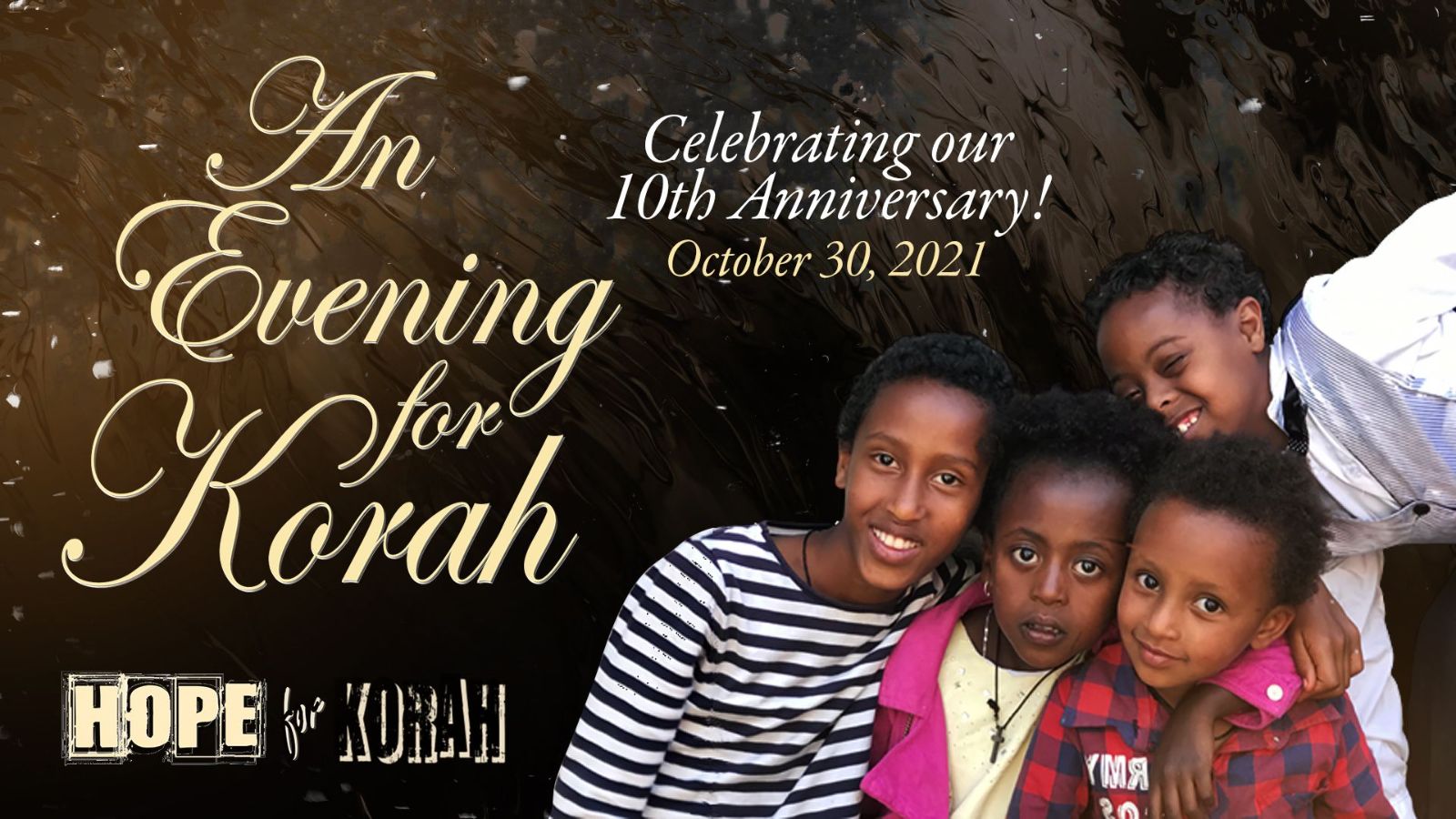 Come Celebrate with Us!

IN-PERSON DINNER & AUCTION
at the Clarion Hotel in Abbotsford, B.C.
36035 N Parallel Rd, Abbotsford, BC V3G 2C6
Saturday, October 30th
Reception begins at 5:00 p.m. Dinner at 6:00 p.m.
An evening of excellent cuisine, great conversation, lively auction and inspirational stories of transformation - bringing hope and a better future for the people of Korah.
Tickets $75 per person (receive $20 tax receipt)
Limited Seating
and all B.C. Covid-19 protocols will be adhered to.
We look forward to celebrating with you!
ONLINE SPECIAL EVENT
If you are unable to celebrate with us in person,
we would love to have you join us virtually
Livestream begins October 30th, 7:00 p.m. (PDT)
Sharing inspirational stories of transformation - bringing hope and a better future for the people of Korah.
Please register at no cost below.
Being online, we also hope there will be many "Korah at Home" WATCH PARTIES - friends gathering in small groups attending "An Evening for Korah" together. If you are interested in hosting a watch party, please click the checkbox below and we will send you a 'Host' packet with further details.
We can't wait to have you join us on the 30th!